Frozen shoulder (Adhesive Capsulitis)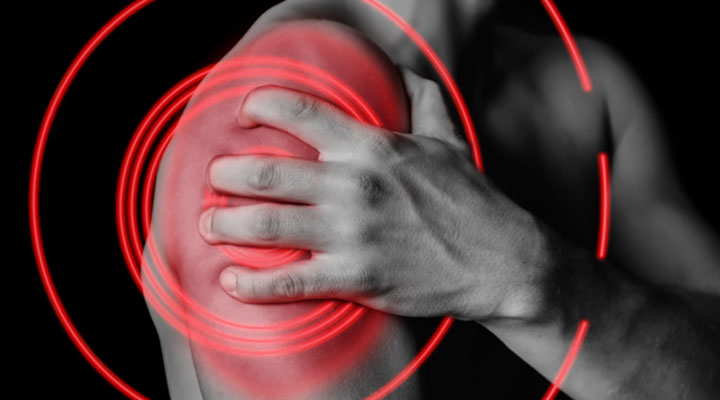 What happens in Frozen Shoulder
In simple words the elasticity of the rubber-like joint capsule is lost, reducing mobility. It commonly affects people aged between 40 and 60 years, and it is more likely in women than in men. It can affect one or both shoulders. Feeling of being handicapped is one of the worst experiences of life and Frozen Shoulder makes you live that until you get the right treatment.
Common Reasons you should know
Frozen shoulder without any known cause can start with pain. Pain may or may not have any specific point. There are two main reasons to Frozen Shoulder (Adhesive Capsulitis)
Diabetes
Injury or jerk to the shoulder joint
Many times there is no cause for this inflammation. However, there are some conditions which might be associated to Frozen Shoulder (Adhesive Capsulitis) but there is very less evidence to establish a direct link. These conditions are:
Cervical disc disease of the neck
Open Heart Surgery
Hyperthyroidism
Shoulder surgery (this may lead to a very stiff shoulder which may give symptoms like a frozen shoulder but it may not be frozen shoulder)
You should join the treatment sessions if you and any one of these symptoms
If you have shoulder pain
If you have reduced range of motion of the arm
If you have stiffness in the neck, shoulder and arm
If you are unable to comb your hair or tie the strap at the back
If you are unable to sleep on side
If you wake up at night due to pain
If you are advised to take an injection in the shoulder joint
If you are taking pain blockers (Pain killers) pills
If you are advised to take steroids
if you are recommended for physiotherapy sessions
If the pain is radiating down in your arm
If you see there is difference between the muscle-loss of right and left shoulder
If you have a history of cervical spondylitis (Neck Pain)
Immediately join treatment sessions if you are suffering from it from more than one year
Or should join treatment if your x rays/ MRI reads any of the following:
Periarthritis
thickening of the joint capsule
reduced joint space
partial tear
full thickness tear
edema
Adhesive capsulitis
All of these are regular findings in a frozen shoulder case and can be very effectively treated or cured from the root.
M Y Therapy
Medical Yoga Centre is known for its results. Our special M.Y. Techniques are excellent for unlocking the Frozen Shoulder, restoring the Range, muscle balance around shoulder joint, and relieving all the pain and stiffness.
M Y Techniques are technical yet simple. Results are visible form the very first Session and keep improving with every passing session. On the first day we do a special test for the assessment of the Range of Motion of the shoulder joint. This is recorded in your card. The test is done again after the session is over to confirm the positive results. This test is done complimentary with the consultation.
A very important feature of the M Y Techniques is that you can practice many M Y techniques at home after a few sessions. This saves your precious time and visits.
All of this is achieved without any medicine, injection, surgery or even any ointment. It's all done by the natural, quick, easy to do, M Y Techniques. Pain is relieved, entire shoulder and neck region is strengthened and the natural behaviour of the shoulder girdle is restored.
Results you should expect
Quick relief from the shoulder pain, neck pain and upper arm pain
Increased range of motion of the arm from the first session
Relief in stiffness of the neck and shoulder both
No pain at night
Improved sleep quality
No need of any pain blockers (Pain killers), injection or steroids
Restoration of the Muscle-mass of the effected shoulder
Muscle strengthening around the shoulder girdle
Relieved cervical spondylitis (Neck Pain)
Regain strength in the arm
Restored flexibility of the joint capsule
Reduced stress/ mental tension
Testimonials
Suresh Garg, M/45 yrs, Businessman, Delhi:
"I was completely devastated with pain and the feeling of being a handicap. I took me three months of regular exercise to get out this condition completely. Now after 15 years of recovery i still haven't forgotten these painful nights before starting treatment with Dr Deepak Sachdeva. I am thankful to him from the deepest core of my heart for the pain-relief within the first week of my treatment. I haven't experienced any pain of stiffness again since then."
Sunita Bansal, F/49 yrs, I.T professional, Sydney:
"The excruciating pain of the shoulder had put a big question mark on my professional carrier I wasn't able to type, wasn't able to push open the door I had to call for help to keep files in an overhead cupboard. Cooking food at home was equally painful because keeping utensils on the cooktop wasn't easy. To my surprise all the pain and agony ended within two weeks of following M. Y. Sequence. It was like a nightmare got over. I did continue my sequence for another couple of months to restore the normal range but this was easy and it later encouraged me to do regular fitness exercises as well. I highly recommend everyone suffering from Frozen Shoulder to learn your Customised sequence soon with Dr Deepak."
Tips by Dr Deepak Sachdeva
'Movement of the arm' is the key to unlock the Frozen Shoulder (Adhesive Capsulitis). Remember to move your arm in whatever capacity you can throughout the day for faster recovery. Immobility of the arm in the shoulder joint leads to increased stiffness. Movement increases the 'heat' in the joint which is exactly your 'Frozen' Shoulder is asking you for. So move your arm as frequently as possible to the maximum range of motion you can.
Give external heat for quick relief. Sit in the sun or when you are sitting in your office chair let the sunlight fall on your shoulder through the window. Pour warm water on your shoulder when you are bathing.
The easiest way to give heat during the day is to use an electric heating belt of extra-large size around your shoulder. It takes the shape of your shoulder and covers it from all the four sides (front, top, back and side). It can also be used at night when you wake up due to pain. But be cautious to switch it off before falling asleep again.
Come and learn your quick and easy to do M.Y sequence asap to eliminate the pain from the root.
Frozen Shoulder of right shoulder Joint ID No: 2305/PBC/09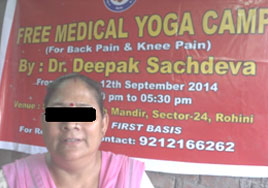 Patient's details: Roshan Singh (name changed)
Gender/Age: Male / 48 years
Complaints: Patient came with the symptoms of restricted RoM of the right shoulder joint, pain and stiffness extending upto the Occiput region and Vertebral border of Scapula and the insertion of the Deltoid muscle on the Humerous. Disturbed sleep at night due to pain.
Previous and present treatment: Undergoing Physiotherapy sessions. Taking muscle relaxants, antacids and pain blockers (SOS).
Advised: She was asked to attend the sessions for 1 hour every day for 7 days initially and the practice the sequence at home for three months.
Shoulder joint Range of Motion Assessment is done on day one and recorded in the card. Next assessment scheduled on the 7 th day of the treatment.
A patient specific towel support for the neck and shoulder is advised.
Sequence prescribed for reliving Shoulder pain:
Shoulder girdle reliever for releasing superior and inferior muscle groups
Easy joint capsule stretch 1 for releving pressure on the jont
Easy joint capsule stretch 2 for relieving stiffness and pain from the anterior shoulder girdle
Easy joint capsule stretch 3 for relieving stiffness and pain from the posterior shoulder girdle
Deep muscle relaxer of reducing stress
DIY sequence for the day
Progress made during 7 days of M.Y. sessions is given below.
| BEFORE the Treatment | AFTER the Treatment |
| --- | --- |
| Abduction 80' | Abduction 105' |
| Flexion 101' | Flexion 120' |
| Extention 15' | Extention 20' |
| Hor. Abduction 85' | Hor. Abduction 110 |
| Lateral Rotation 10' | Lateral Rotation 16' |
| Pain while sleeping at night | Able to sleep better at night. |
| Joint Pain ++++ | Reduced considerably ++ |
| Stiffness ++++ | Reduced considerably ++ |